OVERVIEW
Course 3 in the Ethics Series
Practicing tax ethically is a constant challenge, especially in a time of limited resources and constant client, CRA and business pressures. Our ethics courses are specifically designed for the public practitioner dealing with owner-managed businesses.
Through the use of real experiences and scenarios, this course examines what it means to be an ethical leader in tax. It considers the impact of ethics on business and internal processes, as well as provides a number of strategies that leaders can use in the workplace.
Examples of some scenarios the course considers:
A client sells a major asset, but the invoice shows a price much lower than you'd expect. He says, "What you don't know won't hurt you."
You just realize you made a mistake that will cost your business/firm hundreds of thousands of dollars.
A first-year preparer has a concern on a file but is told, "Just figure it out and I don't want to see extra time on the WIP,"
Topics include: Burchard Ethical Dissonance Model | Processes and codes | Rewards and incentives | Integrations of ethics across various business functions | Online and offline meetings | Compromised principles
Instructors
Presenters Karen Wensley MBA ICD.D and Joseph R. Devaney CPA, CA lead this course.
Meet the instructors!
Pricing and Viewing Options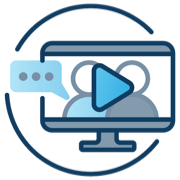 Pre-Recorded Sessions
These valuable sessions are pre-recorded and the videos can be viewed at any time during your selected session dates. Enjoy the flexibility to break up the sessions as desired as well as to pause, rewind or skip ahead. You can view these videos as many times as required during the session periods.
Investment
$105 / registrant / course

$330 / location / course (unlimited registrants, working at the same firm and location)
24/7 access to the course portal during your session dates
1-hour online pre-recorded webinar – presentation may be watched as many times as desired and at any time, during the session dates
Electronic textbook and material
Online course quiz
Professional development certificate (1-hour) pending successful completion of the quiz
Discounts
Location Discount — $330 / location / course (unlimited registrants, working at the same firm and location)
---
Terms and Conditions
Click here to review the standard Terms of Service.
---
Pricing
$105 / registrant / course

$330 / location / course (unlimited registrants, working at the same firm and location)
View Upcoming Dates
Upcoming Sessions
Date
Format
false
false

Sep 20, 2023 - Sep 26, 2023

Pre-Recorded

Pre-Recorded

Sep 20, 2023 - Sep 26, 2023

Register

Registration closes in 2 days

---

Register

Registration closes in 2 days

Oct 11, 2023 - Oct 17, 2023

Pre-Recorded

Pre-Recorded

Oct 11, 2023 - Oct 17, 2023

Register

---

Register

Nov 01, 2023 - Nov 07, 2023

Pre-Recorded

Pre-Recorded

Nov 01, 2023 - Nov 07, 2023

Register

---

Register

Nov 22, 2023 - Nov 28, 2023

Pre-Recorded

Pre-Recorded

Nov 22, 2023 - Nov 28, 2023

Register

---

Register

Dec 13, 2023 - Dec 19, 2023

Pre-Recorded

Pre-Recorded

Dec 13, 2023 - Dec 19, 2023

Register

---

Register

Jan 03, 2024 - Jan 09, 2024

Pre-Recorded

Pre-Recorded

Jan 03, 2024 - Jan 09, 2024

Register

---

Register

Jan 24, 2024 - Jan 30, 2024

Pre-Recorded

Pre-Recorded

Jan 24, 2024 - Jan 30, 2024

Register

---

Register

Feb 14, 2024 - Feb 20, 2024

Pre-Recorded

Pre-Recorded

Feb 14, 2024 - Feb 20, 2024

Register

---

Register

Mar 06, 2024 - Mar 12, 2024

Pre-Recorded

Pre-Recorded

Mar 06, 2024 - Mar 12, 2024

Register

---

Register

Mar 27, 2024 - Apr 02, 2024

Pre-Recorded

Pre-Recorded

Mar 27, 2024 - Apr 02, 2024

Register

---

Register

Apr 17, 2024 - Apr 23, 2024

Pre-Recorded

Pre-Recorded

Apr 17, 2024 - Apr 23, 2024

Register

---

Register

May 08, 2024 - May 14, 2024

Pre-Recorded

Pre-Recorded

May 08, 2024 - May 14, 2024

Register

---

Register

May 29, 2024 - Jun 04, 2024

Pre-Recorded

Pre-Recorded

May 29, 2024 - Jun 04, 2024

Register

---

Register

Jun 19, 2024 - Jun 25, 2024

Pre-Recorded

Pre-Recorded

Jun 19, 2024 - Jun 25, 2024

Register

---

Register

Jul 10, 2024 - Jul 16, 2024

Pre-Recorded

Pre-Recorded

Jul 10, 2024 - Jul 16, 2024

Register

---

Register

Jul 31, 2024 - Aug 06, 2024

Pre-Recorded

Pre-Recorded

Jul 31, 2024 - Aug 06, 2024

Register

---

Register

Aug 21, 2024 - Aug 27, 2024

Pre-Recorded

Pre-Recorded

Aug 21, 2024 - Aug 27, 2024

Register

---

Register