About
Join senior tax litigator Dean Blachford LL.B., B.C.L. and Caitlin Butler CPA, CA in this practical 1-hour pre-recorded webinar as they dive into the increasingly frequent and complex world of CRA Net Worth Audits. With real-life examples and practical discussions, they provide tips for identifying CRA's use of these techniques and a road map for assisting clients involved with these audits and objections.
Topics
What Net Worth Audits (NWA) entail
Why CRA uses NWAs
How NWAs work, including a discussion of several forms and schedules
Typical errors in NWAs
How to prepare and educate a client on a NWA
Tips to prevent a NWA
Instructors
Tax specialists Dean Blachford LL.B., B.C.L. and Caitlin Butler CPA, CA lead this course.
Meet the instructors!
PRICING AND VIEWING OPTIONS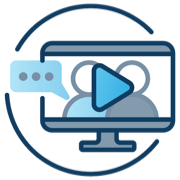 Pre-Recorded Sessions
These valuable sessions are pre-recorded and the videos can be viewed at any time during your selected session dates. Enjoy the flexibility to break up the sessions as desired as well as to pause, rewind or skip ahead. You can view these videos as many times as required during the session periods.
Investment: First registrant: $125 / Additional registrants: $100
24/7 access to the course portal during your session dates
1-hour online pre-recorded webinar – presentation may be watched as many times as desired and at any time, during the session dates
Electronic textbook and material
Online course quiz
Professional development certificate (1-hour) pending successful completion of the quiz
DISCOUNTS
Early Bird Discount— Save $10 by registering by September 15, 2023.
Group Registrations (2 or more) — Save $25 for each additional registrant. Additional registrants for the same session are accepted after the initial registration. Please contact the office via email if required.
---
TERMS AND CONDITIONS
Click here to review the standard Terms of Service.
Upcoming Sessions
Date
Format
false
false

Sep 20, 2023 - Sep 26, 2023

Pre-Recorded

Pre-Recorded

Sep 20, 2023 - Sep 26, 2023

Register

Registration closes in 3 days

---

Register

Registration closes in 3 days

Sep 27, 2023 - Oct 03, 2023

Pre-Recorded

Pre-Recorded

Sep 27, 2023 - Oct 03, 2023

Register

---

Register

Oct 04, 2023 - Oct 10, 2023

Pre-Recorded

Pre-Recorded

Oct 04, 2023 - Oct 10, 2023

Register

---

Register

Oct 11, 2023 - Oct 17, 2023

Pre-Recorded

Pre-Recorded

Oct 11, 2023 - Oct 17, 2023

Register

---

Register

Oct 18, 2023 - Oct 24, 2023

Pre-Recorded

Pre-Recorded

Oct 18, 2023 - Oct 24, 2023

Register

---

Register

Oct 25, 2023 - Oct 31, 2023

Pre-Recorded

Pre-Recorded

Oct 25, 2023 - Oct 31, 2023

Register

---

Register

Nov 01, 2023 - Nov 07, 2023

Pre-Recorded

Pre-Recorded

Nov 01, 2023 - Nov 07, 2023

Register

---

Register

Nov 08, 2023 - Nov 14, 2023

Pre-Recorded

Pre-Recorded

Nov 08, 2023 - Nov 14, 2023

Register

---

Register

Nov 15, 2023 - Nov 21, 2023

Pre-Recorded

Pre-Recorded

Nov 15, 2023 - Nov 21, 2023

Register

---

Register

Nov 22, 2023 - Nov 28, 2023

Pre-Recorded

Pre-Recorded

Nov 22, 2023 - Nov 28, 2023

Register

---

Register

Nov 29, 2023 - Dec 05, 2023

Pre-Recorded

Pre-Recorded

Nov 29, 2023 - Dec 05, 2023

Register

---

Register

Dec 06, 2023 - Dec 12, 2023

Pre-Recorded

Pre-Recorded

Dec 06, 2023 - Dec 12, 2023

Register

---

Register

Dec 13, 2023 - Dec 19, 2023

Pre-Recorded

Pre-Recorded

Dec 13, 2023 - Dec 19, 2023

Register

---

Register

Dec 20, 2023 - Dec 26, 2023

Pre-Recorded

Pre-Recorded

Dec 20, 2023 - Dec 26, 2023

Register

---

Register

Dec 27, 2023 - Jan 02, 2024

Pre-Recorded

Pre-Recorded

Dec 27, 2023 - Jan 02, 2024

Register

---

Register

Jan 03, 2024 - Jan 09, 2024

Pre-Recorded

Pre-Recorded

Jan 03, 2024 - Jan 09, 2024

Register

---

Register

Jan 10, 2024 - Jan 16, 2024

Pre-Recorded

Pre-Recorded

Jan 10, 2024 - Jan 16, 2024

Register

---

Register

Jan 17, 2024 - Jan 23, 2024

Pre-Recorded

Pre-Recorded

Jan 17, 2024 - Jan 23, 2024

Register

---

Register

Jan 24, 2024 - Jan 30, 2024

Pre-Recorded

Pre-Recorded

Jan 24, 2024 - Jan 30, 2024

Register

---

Register

Jan 31, 2024 - Feb 06, 2024

Pre-Recorded

Pre-Recorded

Jan 31, 2024 - Feb 06, 2024

Register

---

Register

Feb 07, 2024 - Feb 13, 2024

Pre-Recorded

Pre-Recorded

Feb 07, 2024 - Feb 13, 2024

Register

---

Register

Feb 14, 2024 - Feb 20, 2024

Pre-Recorded

Pre-Recorded

Feb 14, 2024 - Feb 20, 2024

Register

---

Register

Feb 21, 2024 - Feb 27, 2024

Pre-Recorded

Pre-Recorded

Feb 21, 2024 - Feb 27, 2024

Register

---

Register

Feb 28, 2024 - Mar 05, 2024

Pre-Recorded

Pre-Recorded

Feb 28, 2024 - Mar 05, 2024

Register

---

Register

Mar 06, 2024 - Mar 12, 2024

Pre-Recorded

Pre-Recorded

Mar 06, 2024 - Mar 12, 2024

Register

---

Register

Mar 13, 2024 - Mar 19, 2024

Pre-Recorded

Pre-Recorded

Mar 13, 2024 - Mar 19, 2024

Register

---

Register

Mar 20, 2024 - Mar 26, 2024

Pre-Recorded

Pre-Recorded

Mar 20, 2024 - Mar 26, 2024

Register

---

Register

Mar 27, 2024 - Apr 02, 2024

Pre-Recorded

Pre-Recorded

Mar 27, 2024 - Apr 02, 2024

Register

---

Register

Apr 03, 2024 - Apr 09, 2024

Pre-Recorded

Pre-Recorded

Apr 03, 2024 - Apr 09, 2024

Register

---

Register

Apr 10, 2024 - Apr 16, 2024

Pre-Recorded

Pre-Recorded

Apr 10, 2024 - Apr 16, 2024

Register

---

Register

Apr 17, 2024 - Apr 23, 2024

Pre-Recorded

Pre-Recorded

Apr 17, 2024 - Apr 23, 2024

Register

---

Register

Apr 24, 2024 - Apr 30, 2024

Pre-Recorded

Pre-Recorded

Apr 24, 2024 - Apr 30, 2024

Register

---

Register

May 01, 2024 - May 07, 2024

Pre-Recorded

Pre-Recorded

May 01, 2024 - May 07, 2024

Register

---

Register

May 08, 2024 - May 14, 2024

Pre-Recorded

Pre-Recorded

May 08, 2024 - May 14, 2024

Register

---

Register

May 15, 2024 - May 21, 2024

Pre-Recorded

Pre-Recorded

May 15, 2024 - May 21, 2024

Register

---

Register

May 22, 2024 - May 28, 2024

Pre-Recorded

Pre-Recorded

May 22, 2024 - May 28, 2024

Register

---

Register

May 29, 2024 - Jun 04, 2024

Pre-Recorded

Pre-Recorded

May 29, 2024 - Jun 04, 2024

Register

---

Register

Jun 05, 2024 - Jun 11, 2024

Pre-Recorded

Pre-Recorded

Jun 05, 2024 - Jun 11, 2024

Register

---

Register

Jun 12, 2024 - Jun 18, 2024

Pre-Recorded

Pre-Recorded

Jun 12, 2024 - Jun 18, 2024

Register

---

Register

Jun 19, 2024 - Jun 25, 2024

Pre-Recorded

Pre-Recorded

Jun 19, 2024 - Jun 25, 2024

Register

---

Register

Jun 26, 2024 - Jul 02, 2024

Pre-Recorded

Pre-Recorded

Jun 26, 2024 - Jul 02, 2024

Register

---

Register

Jul 03, 2024 - Jul 09, 2024

Pre-Recorded

Pre-Recorded

Jul 03, 2024 - Jul 09, 2024

Register

---

Register

Jul 10, 2024 - Jul 16, 2024

Pre-Recorded

Pre-Recorded

Jul 10, 2024 - Jul 16, 2024

Register

---

Register

Jul 17, 2024 - Jul 23, 2024

Pre-Recorded

Pre-Recorded

Jul 17, 2024 - Jul 23, 2024

Register

---

Register

Jul 24, 2024 - Jul 30, 2024

Pre-Recorded

Pre-Recorded

Jul 24, 2024 - Jul 30, 2024

Register

---

Register

Jul 31, 2024 - Aug 06, 2024

Pre-Recorded

Pre-Recorded

Jul 31, 2024 - Aug 06, 2024

Register

---

Register

Aug 07, 2024 - Aug 13, 2024

Pre-Recorded

Pre-Recorded

Aug 07, 2024 - Aug 13, 2024

Register

---

Register

Aug 14, 2024 - Aug 20, 2024

Pre-Recorded

Pre-Recorded

Aug 14, 2024 - Aug 20, 2024

Register

---

Register

Aug 21, 2024 - Aug 27, 2024

Pre-Recorded

Pre-Recorded

Aug 21, 2024 - Aug 27, 2024

Register

---

Register

Aug 28, 2024 - Sep 03, 2024

Pre-Recorded

Pre-Recorded

Aug 28, 2024 - Sep 03, 2024

Register

---

Register

Sep 04, 2024 - Sep 10, 2024

Pre-Recorded

Pre-Recorded

Sep 04, 2024 - Sep 10, 2024

Register

---

Register